Best Things to do in Banff – Via Ferrata Tour at Norquay
Feel on top of the world (and a mountain!) as you experience views over Banff National Park that are rarely seen by most visitors.
And the best part – it's definitely an adventure and a thrill, but it's completely safe and secure, and almost anyone can do it.
Set your fears aside and consider adding this epic adventure to your bucket list – you won't regret it!
Disclaimer: Our via ferrata experience was kindly provided on a complimentary basis by Mount Norquay. As always, all thoughts and opinions are entirely my own. I will continue to promote only products, properties, destinations, and services that I truly believe in 100%, and would wholeheartedly recommend to others. 
COVID-19: If you're worried about Covid, read about Mount Norquay's Via Ferrata Covid Safety Measures.


What is the Via Ferrata Tour at Norquay in Banff?
Italian for "iron road", a "Via Ferrata" is an assisted climbing experience, where you can safely scale your way up a mountain, climb ladders and cross suspension bridges as you take in the grandeur of the vistas surrounding you.
The Via Ferrata in Banff has four magnificent routes on the cliffs above Mount Norquay, and you can choose from different route lengths to please your schedule (and your sense of adventure). Continue reading to learn about the routes, below.


Is the Via Ferrata safe?
The Via Ferrata is basically a safe, assisted version of mountaineering, and you are always completely secure during the entire experience.
The tour is led by a highly-experienced ACMG-certified guide. Each participant wears a harness that is attached to the mountain's steel cable pathway at all times. Metal handholds, footholds, beams, ladders, and bridges are bolted into the side of the mountain in a design that allows you to easily climb and traverse your way up Mount Norquay. You're clipped into a wire with a harness system the entire time that negates the possibility of significant falls.
Each participant is also given the time to practice using their gear before the tour officially begins. If you can allow yourself to trust the gear, you can likely do the Via Ferrata and climb up Mount Norquay!
Here is the safety gear you are outfitted with (as per Mount Norquay):
Safety Helmet – The classic Edelrid helmet is made of tough polyethylene and provides great ventilation. There's a choice of colors to match your outfit.
Carabiners – Two Iron Cruiser carabiners with slide-down locking sleeves that can be operated with one hand. The Energy Absorption System limits load impact in case of a fall. Extendable, bungee-style lanyards with webbing loop, attaches directly to the harness.
Lanyard Harness – An economical, complete lanyard protection system for Via Ferrata, the Iron Cruiser set will efficiently protect you out in the vertical.
And the safety specifics of the cable pathways (as per Mount Norquay):
Cable Pathway – The steel cable can hold 40,000kg – that's equivalent to 80 moose or 200 male grizzly bears. The cable is secured to the mountain with 12cm thick stainless steel anchors; each drilled 15 cm into the rock.

Why is the Via Ferrata tour one of the best things to do in Banff?
If you have a sense of adventure and want views that are out of this world, the Via Ferrata tour is for you! You'll challenge yourself in a thrilling experience and take in stunning views you wouldn't have a chance to see otherwise. It's a once in a lifetime opportunity and in my opinion, completely worth the time and money!

Can anyone do the Via Ferrata? Do I need to be in good hiking shape?
You're still climbing up a mountain and gaining a moderate elevation, so of course, a basic fitness level is required. However, the Norquay guides go slow and adjust their pace for everyone in the group, allowing plenty of time to stop and catch your breath, take a water or snack break, and snap plenty of photos.
The experience is designed to accommodate newbies who are seeking a taste of adventure, as well as explorers who already have some alpine experience. Some tours have children and older individuals in them, and the tours are truly fantastic for a wide range of ability levels.
You do not need any mountaineering experience to do the Via Ferrata, so don't let that stop you!

Where is Mount Norquay located?
Mount Norquy is located up Mount Norquay Road in Banff, AB. Map here:

How much does the Via Ferrata at Mt Norquay cost?
There are four different package options at Mount Norquay, all with different durations and costs associated, as per below:
Package Options:
EXPLORER
$175
2 – 2.5 hour round trip
1km distance
2235m above sea level
145m elevation gain
Minimum 12 years of age and minimum 40 kg (88 lbs)
RIDGEWALKER
$225
3.5 – 4 hour round trip
1.4km distance
2300m above sea level
260m elevation gain
Minimum 12 years of age and minimum 40 kg (88 lbs)

ALPINIST
$250
4 – 4.5 hour round trip
1.9km distance
2355m above sea level
305m elevation gain
Minimum 14 years of age and minimum 40 kg (88 lbs)
SKYLINE
$290
4.5 – 5 hour round trip
2.5km distance
2380m above sea level
290m elevation gain
Minimum 14 years of age and minimum 40 kg (88 lbs)
SUMMITEER
$365
5 – 6 hour round trip
3.2km distance
2450m above sea level
360m elevation gain
Minimum 14 years of age and minimum 40 kg (88 lbs)
We went for the 6-hour Summiteer package, which I couldn't recommend more! We got to climb to the summit (very top) of Mount Norquay, which afforded the most gorgeous views! Here we had our lunch. Also, at the end of the Summiteer experience, each participant is given a drink and charcuterie board at the end of the day at Norquay's Cliffhouse Bistro, a 1950s tea room turned modern bistro with insane mountain views!
Learn more about each route here
What do I need to bring for the Via Ferrata tour?
Here is the safety gear you should bring with you: (as per Mount Norquay)
All-weather/waterproof outerwear (e.g. rain jacket and soft-shell pants suitable for outdoor activity involving moderate physical exertion)
Warm clothing layers
Sturdy hiking/trail footwear (see Footwear Guide diagram below)
Sunglasses
Sunscreen
Water Bottle
Small backpack
Snack
Camera
Didn't bring any gear with you? Don't worry – Norquay has got you covered with their extensive range of free rental equipment. Back-packs, hiking boots, gloves, sunscreen, rain jackets and pants are all available upon arrival, should you need them. (Available on a first-come, first-serve basis; Mount Norquay cannot guarantee availability or sizes.)
It's important to wear strong, sturdy footwear designed specifically for hiking. Here is Mount Norquay's footwear guide: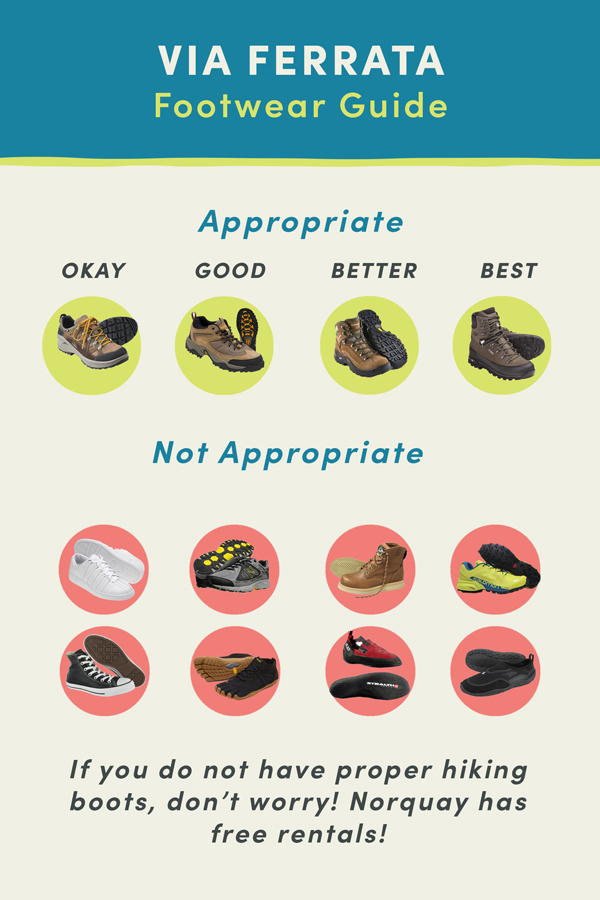 When is the best time to do the Via Ferrata in Banff?
I would recommend experiencing the Via Ferrata from late June to early September. Outside of these months, you might experience colder temperatures, snow, or icy conditions.
Read my complete blog about The Best Time to Visit Banff for more information about Banff's climate and seasons.
As of current, these are the current dates that each Via Ferrata route runs: (visit the Mount Norquay website for updates)
Explorer Route
June 19 to September 7
7 Days a Week
9:30am | 1:00pm  | 3:00pm  | 3:30pm
September 8 to October 12
7 Days a Week
10:00am | 3:30pm
Ridgewalker Route
June 19 to September 7
7 Days a Week
9:00am | 10:00am | 10:30am | 11:00am
1:30pm | 2:00pm | 2:30pm
September 8 to October 12
7 Days a Week
10:00am | 1:00pm | 2:30pm
Skyline Route
June 19 to September 7
7 Days a Week
9:30am
September 8 to September 27
7 Days a Week
10:30am
Summiteer Route
June 19 to September 7
7 Days a Week
9:00am | 10:00
September 8 to September 27
7 Days a Week
10:00am

What Else To Do in the Area: Banff and Lake Louise
Need some ideas for the rest of your visit to the area? There is SO much to do around Banff!
Here are a few of my recommendations of what to do in the Banff and Lake Louise area:
Looking for even more ideas of what to do in winter in Banff? Check out my blog post:
The 12 Best Things to Do in Winter in Banff

Looking for the best rate on accomodations in Banff and area?
Book using my affiliate link with Expedia for special discounts:
LOVE IT? PIN IT!

Questions or comments about the Via Ferrata Tour at Norquay, or Banff and Lake Louise? Some other topics you'd like me to cover? I'd love to hear from you, just leave me a comment below!
Banff Via Ferrata Tour at Norquay – Best Things to Do in Banff, Alberta – Updated 2021